SUPREME LENDING

SUPREME LENDING
    MATT GARCIA – SENIOR LOAN OFFICER
Cell:678-523-0981
ABOUT SUPREME LENDING
We are the Southeast Region of Supreme Lending, a national mortgage lender headquartered in Dallas, TX. Our Region includes 9 branches in GA, FL and NC (serving SC as well). Supreme Lending has close to 100 branches nationwide and is licensed in more than 45 states.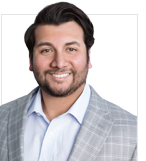 Matt Garcia
Cell: 678-523-0981
Fax: 404-592-6487
Matt.Garcia@SupremeLending.com
NMLS # 218245
GA Lic. # 24481
Matt has been in the mortgage industry since 2005. He began his career in Mortgage Operations starting as a Processor, then Closer, and finally as an Underwriter.
In a very complex and ever-changing real estate financial market, this expertise helps him deliver a complete mortgage experience and translates that into a smooth and easy transaction from start to finish for his clients.
As a result, he has become one of the top Supreme Lending Senior Loan Officers in Georgia and grown one of the top Supreme Lending teams in the nation. Matt and his team are committed to the success of every transaction and their goal is to always, always, ALWAYS close on time.
TESTIMONIALS
Chris Sanchez


Cristina was very attentive and easy to work with! It seemed more like I was talking to an old friend at each meeting. She really listens and acts on what was important to me. Tons of insight with regards to different areas of Atlanta too…Thanks for everything!