THE HOME BUYING PROCESS
Buying a home is an exciting and complex adventure. There is an array of real estate choices and if you're like most people, buying a home is the biggest investment you will ever make.
We are here to help you find a comfortable home and negotiate the best possible terms. We strive for excellence in serving our client's needs to make the purchase process seamless. We will attend to details, return your calls and keep you well informed and updated every step of the way.
Whether it's a Single Family Home, Townhome or Condo, we are here to help you find the best fit for your needs. Let us share our knowledge and experience as Professional Realtors.
Our Value Proposition to You
Needs Analysis – analyze the buyer's wants and needs. Help get a clear picture of his/her ideal home
Pre-qualification or Pre-approval – guide the buyer to a loan officer. Help with the pre-qualification or pre-approval process. Help choose the best mortgage financing plan
Neighborhood Information – create broad neighborhood search profile. Provide list of target neighborhoods and related information for each
Home Search – organize and schedule home search process. Ongoing updates, drive-bys, and showings of available homes
Make an Offer – compare homes and make decision. Advise terms and issues of offer. Fill out purchase offer contract
Negotiating to Buy – present the offer. Negotiate on the buyer's behalf
Vendor Coordination – advise and supervise vendor selections. Coordinate vendor services
Pre-close Preparation – coordinate and supervise document preparation. Provide pre-closing consulting
Closing – preview closing documents. Resolve last minute issues. Complete transaction
Post Closing – coordinate move in. Assist with post closing issues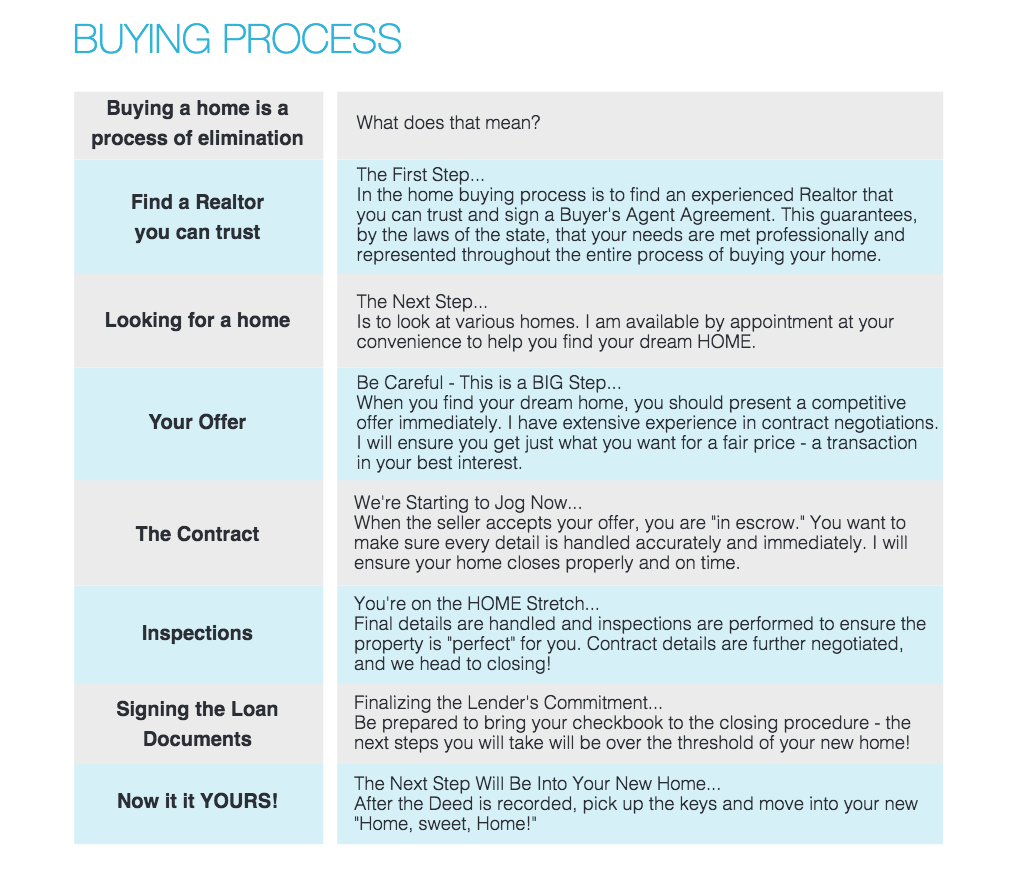 WHAT EVERY BUYER SHOULD KNOW BEFORE PURCHASING
Property taxes and qualified interest are deductible on an individual's federal income tax return.
Often, a home is the largest asset an individual has and is considered one of the most valuable investments available.
A portion of each amortized mortgage payment goes to principal which is an investment.
A home is one of the few investments that you can enjoy by living in it.
A REALTOR® can usually show you any home whether it is listed with a company, a builder, or even a For Sale By Owner home.
Working through a REALTOR® to purchase a For Sale By Owner home can be very advantageous because someone is looking out for your best interest.
Your Real Estate professional can provide you with a list of items you'll need to complete your loan application so you'll be prepared.
A homeowner can exclude up to $500,000 of capital gain tax if married and filing jointly or up to $250,000 if single or filing separately. The home must have been the taxpayer's principal residence for the previous two years.
Beginning with May 07, 1997, there is no longer a requirement to purchase another home more expensive than the one sold. Homeowners are free to buy up or down with no tax consequences assuming their gain is less than the allowable amounts.
Ask the Real Estate professional if they are familiar with the neighborhoods where you want to live.
Ask the Real Estate professional whom he/she is representing in the transaction.
Ask the Real Estate professional what he/she will do to keep you informed.
Your Real Estate professional should provide you with the highest level of service and advice.
BEFORE WE BEGIN…
PRE-QUALIFICATION AND PRE-APPROVAL
Many buyers apply for a loan and obtain approval before they find the home they want to buy. Why?
Pre-qualifying will help you in the following ways:
Generally, interest rates are locked in for a set period of time. You will know in advance exactly what your payments will be on offers you choose to make.
You won't waste time considering homes you cannot afford.
Pre-approval will help you in the following ways:
A seller may choose to make concessions if they know that your financing is secured. You are like a cash buyer, and this may make your offer more competitive.
You can select the best loan package without being under pressure.
HOW MUCH HOME CAN YOU AFFORD?
There are three key factors to consider:
The down payment
Your ability to qualify for a mortgage
The closing costs associated with your transaction.
DOWN PAYMENT REQUIREMENTS:
Most loans today require a down payment of between 3.5% and 5.0% depending on the type and terms of the loan. If you are able to come up with a 20-25% down payment, you may be eligible to take advantage of special fast-track programs and possibly eliminate mortgage insurance.
CLOSING COSTS:
You will be required to pay fees for loan processing and other closing costs. These fees must be paid in full at the final settlement, unless you are able to include them in your financing. Typically, total closing costs will range between 2-5% of your mortgage loan.
QUALIFYING FOR THE MORTGAGE:
Most lenders require that your monthly payment range between 25-28% of your gross monthly income. Your mortgage payment to the lender includes the following items:
The principal on the loan (P)
The interest on the loan (I)
Property taxes (T),
The homeowner's insurance (I).
Your total monthly PITI and all debts (from installments to revolving charge accounts) should range between 33-38% of your gross monthly income. These key factors determine your ability to secure a home loan: Credit Report, Assets, Income, and Property Value.
FIRST TIME BUYERS
Looking to purchase your first home? I'm here to help!
To get started on this exciting journey, I would be happy to provide you with a complimentary copy of Your First Home: The Proven Path to Home Ownership. Packed with inspiring stories and the wisdom of thousands of successful first-time home buyers, it's a must-read for anyone aspiring to buy a home.
Please Get In Touch with us and mention you are a First Time Buyer to request your FREE copy.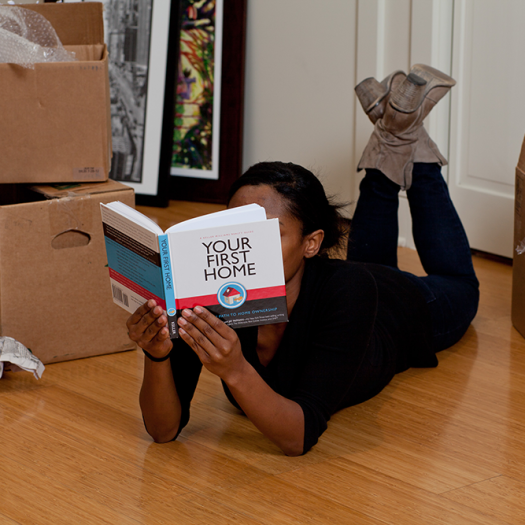 TESTIMONIALS
Andrew


Cristina knows the Smyrna area extremely well and has had been able to combine an incredible amount of local area knowledge and apply over ten years of sales experience to help both buyers and sellers in the area. It's clear she has a great passion for real estate and does a fantastic job helping her clients achieve results.